CEPM and its members
Member organisations from 10 countries
Ten countries are currently represented in CEPM: Germany, Bulgaria, Spain, France, Hungary, Italy, Poland, Portugal, Romania and Slovakia.
90% OF EUROPEAN MAIZE
The 10 countries that make up CEPM represent almost the entirety of the EU-28's maize production acreage, which amounts to 15 million hectares.
More precisely, CEPM members represent:
91% of corn acreage
80% of maize silage acreage
92% of maize seed acreage
100% of sweetcorn acreage
within the EU-28.
CEPM is chaired by Mr. Daniel Peyraube, who is also President of the French maize organisation, the Association of French Maize Producers (AGPM).
The Permanent Delegation of CEPM has also been entrusted to AGPM since its creation in 1985. Céline Duroc, the Director of AGPM, is the current CEPM Permanent Delegate.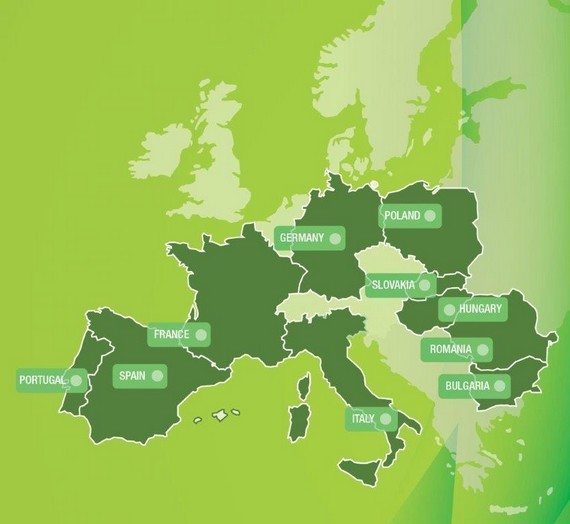 LES ORGANISATIONS ADHÉRENTES À LA C.E.P.M.
BULGARIA

NATIONAL GRAIN PRODUCERS ASSOCIATION
Head office : 1606 Sofia, Bulgaria / 39 Vladaiska str. ground floor, entr.A
Phone : +359 2 953 37 26
Fax : +359 2 953 37 26
Email : office@grain.bg
Site : www.grain.bg
Presidente : Ms Rumyana ANGELOVA
Executive Director : Natalia TODOROVA

AGRICULTURAL ORGANISATIONS COUNCIL
Head office : Sofia 1000 Bul. Knyaz Alexander Dondoukov 48 et.2 ap.7
Phone : +359887684230
Skype : +359887684230 / +359887649412
Skype : +359887649412
Email : ltodorovabg@gmail.com /
Site : www.cbao-bg.com
Presidente : Ludmila TODOROVA

FRANCE

ASSOCIATION OF FRENCH MAIZE PRODUCERS
Head office : 21, chemin de Pau 64121 MONTARDON
Phone : +33 (0) 5 59 12 67 00+ 33 (0) 5 59 12 67 00
Fax : +33 (0) 5 59 12 67 10
Email : agpm@agpm.com
Site : www.agpm.com
President : M. Daniel Peyraube
Director : Céline Duroc

GERMANY

D.M.K. – GERMAN MAIZE ORGANISATION
Head office : Brühler Straße 9 / 53119 Bonn
Phone : 0049-(0)228-926580
Email: dmk@maiskomitee.de
Site : www.maiskomitee.de
President : Prof. Dr. Friedhelm Taube
Executive Director : Dr. Helmut Meßner

HUNGARY

HUNGARIAN SEED ASSOCIATION
Head office : Ábel Jeno U. 4/B 1113 BUDAPEST
Phone : 00 36 1 332 57 55
Skype : 00 36 1 332 57 55
Fax : 00 36 1 302 65 07
Site : www.vszt.hu
President : Geza TAKACS

ITALY

AMI – ASSOCIATION OF ITALIEN MAIZE PRODUCERS
Head office : Via Monteverdi 15 – 30174 Mestre Venezia – Italie
Phone : 041987400
Fax : 041989034
Email : a-m-i@libero.it
President : Marco Aurelio PASTI

POLAND

PZPK
Head office : ul. A.Mickiewicza 33 /43 – 60-837 Skype – 33 /43 – 60-837 Poznan
Phone : +48 61 662 74 20
Fax : +48 61 662 74 20
Email : pzpk@kukurydza.info.pl
Site : www.kukurydza.info.pl
President : Tadeusz MICHALSKI

PORTUGAL

ANPROMIS
Head office : Rua Mestre Lima de Freitas n.º 1 – 5º andar / 1549-012 Lisboa – Portugal
Phone : 00 351 217100035
Skype : 00 351 217100035
Email : anpromis@anpromis.pt
Site : www.anpromis.pt
Facebook : Anpromis
President : Luís VASCONCELLOS E SOUZA

ROMANIA

APPR – ASSOCIATION OF MAIZE PRODUCERS OF ROMANIA
Head office : Str Garii nr 2 Mihail kogalniceanu / jud Ialomita / Cod 927165 /Romania
Phone : 0040 724 566 871
Skype : 0040 724 566 871
Email : office@apprs.ro
Site : www.apprs.ro
President : Arnaud PERREIN

SLOVAKIA

ZPSK
Head office : Valanského 22 – 917 01 TRNAVA
Phone : 00 421 33 55 16 566
Skype : 00 421 33 55 16 566
Fax : 00 421 33 55 16 566
Site : www.zpsk.sk
President : Ladislav MORAVCIK

SPAIN

ASSOCIATION OF SPANISH MAIZE PRODUCERS (AGPME)
Head office : c/ Fernando el Católico, 19 – 22300 – Barbastro (Huesca) – Espagne
Phone : +34 974 313242
Skype : +34 974 31324
Phone : +34 619 716382
Skype : +34 619 716382 (Président)
Email : vromero@agpme.es /
President Email's : bodega@monteodina.com ; romeojl@telefonica.net
President : José Luis ROMEO MARTIN